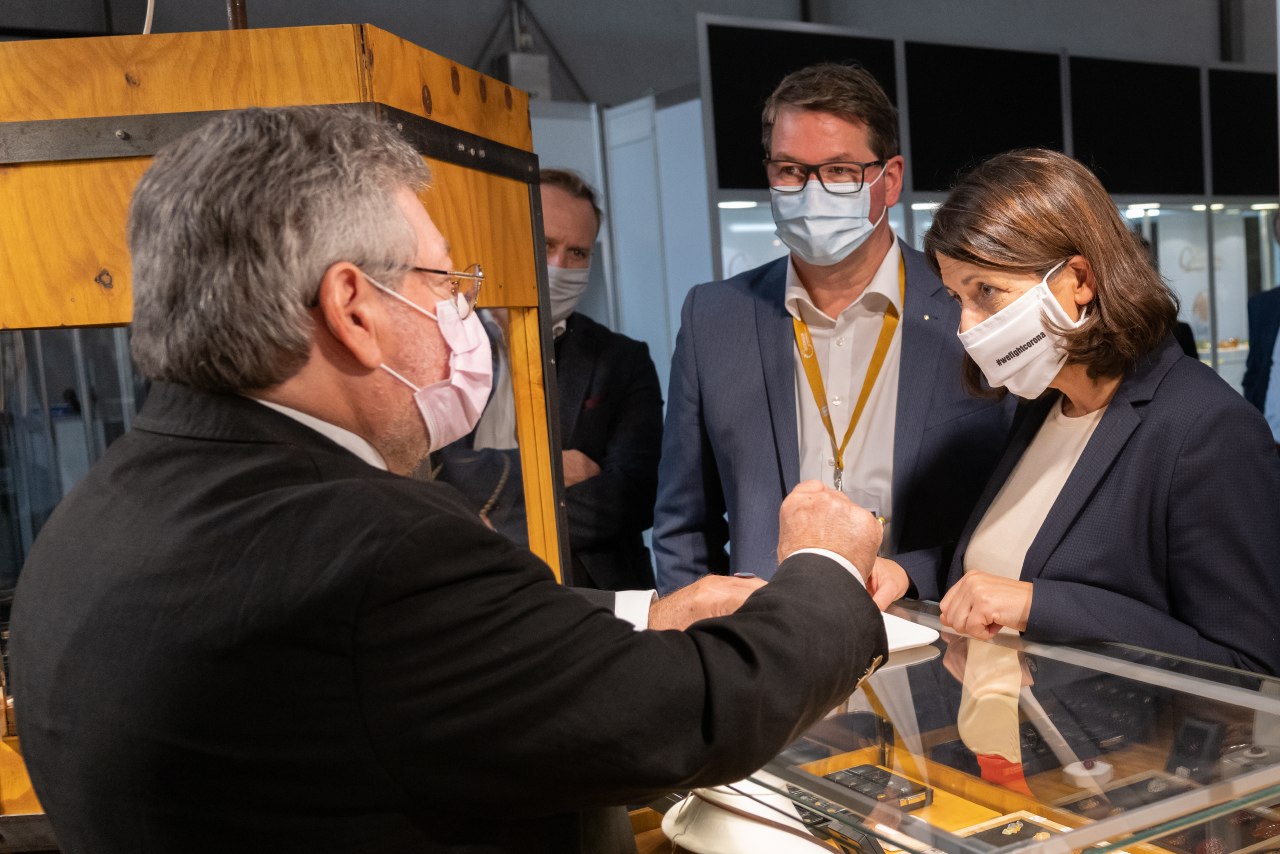 Intergem 2020: The sector shows its colours
Due to corona, the summary for the 36th Intergem from 2 to 5 October is a mixed one. Many participants reported good sales, whilst others declared business to be subdued. However, an important aspect for all participants was to show their colours in this industry showcase during these difficult times.
"Thanks to the pandemic, this year's Intergem is very difficult to compare to those of normal years," says the fair's managing director, Kai-Uwe Hille. "However, overall we can be satisfied with the outcome, in view of the situation as a whole. There were significantly fewer visitors than in 2019. But those who did make the journey came with the clear intention to buy. High-quality, loose stones were in particular demand." The sale of just a few such stones is enough to make attendance at the fair pay off. This is confirmed by Heike Faller of Karl Faller: "Our customers came, we had intensive discussions and closed some very positive transactions. It was almost like a normal fair, just as in previous years, our attendance paid off." Similarly, Nicole Ripp of Groh + Ripp says: "Faced with the second wave of corona, we travelled to this year's fair with very low expectations. However, we were positively surprised and achieved very good sales. We even had a visit from a customer from Australia, who purchased some especially attractive Paraibas." Werner-Fürstenberg-Franzmann of Herbert Fürstenberg, also initially sceptical, was similarly pleasantly surprised: "The visitors were really happy to have a fair highlight again."
For many goldsmiths and jewellers the Intergem is the key, indispensable sourcing platform for gemstones in all price categories and varieties, especially as no fairs had taken place for over six months, people were barely travelling and the stockrooms are empty. Guests travelled not only from all over Germany but, despite travel restrictions, from abroad, including Italy, Colombia, Greece, Finland and Australia. "For many visitors it was the first time at the Intergem," notes Kai-Uwe Hille.
For a number of exhibitors from the jewellery segment it was especially important to put in an appearance. "The fair was obviously very quiet, we expected nothing less," says Roman Ruppenthal of A. Ruppenthal. "But for us it is essential to have a presence in the showcase of the industry, as well as a display of commitment to the location. Next year things will hopefully look different."
The sophisticated hygiene concept with entrance control, air disinfection and wide aisles helped to make all participants feel absolutely safe and able to go about their business in a relaxed manner. "The hygiene concept developed and implemented by Kai-Uwe Hille and his team was exemplary," praises Dr. Konrad Henn, Chairman of the fair association, adding: "It was definitely the right idea to stage the Intergem this year. We wanted to give a clear signal for the future of the fair. We succeeded in doing so."
Photos:
Ebner Fine Gems GmbH, Solingen – Multicolored cultured pearl necklaves with South Sea and Thiti cultured pearls, natural color
Groh + Ripp OHG, Idar-Oberstein – Green tourmaline from Brazil, cut from rough stone
Engel & Co KG, Idar-Oberstein – Multi-row necklace made of faceted alternating grenades, interchangeable clasp made of petrified palm wood with garnet as a center stone, yellow gold 750/-
Hans D. Krieger KG, Idar-Oberstein – Rose gold ring 750, 78 brillants 1,56 ct. G/si; white gold ring 750, 135 brillants 4,22 ct. G/si
INTERGEM 2020 – Impressions – Corona-related admission situation with fever scan
INTERGEM 2020 – Impressions – Exhibition tour with State Secretary Daniela Schmitt, exhibition stand Emil Weis Opals KG
Download: Intergem 2020_Final report Copy and pictures in HiRes.